dot by dot inc. launched the collaboration T-shirt design project with Attack on Titan.
These limited collaboration T-shirt entitled "Attack on Titan's Message" which had been done under the supervision of Mr. Hajime Isayama; the author of Attack on Titan as well as Mr.Shintaro Kawakubo; the editor of comics.
We aim to design a fashionable T-shirt and the collection bears the most impressive lines from original comics including "It is a BARREN DISCUSSION", "NOTHING CAN BE DONE!" and more.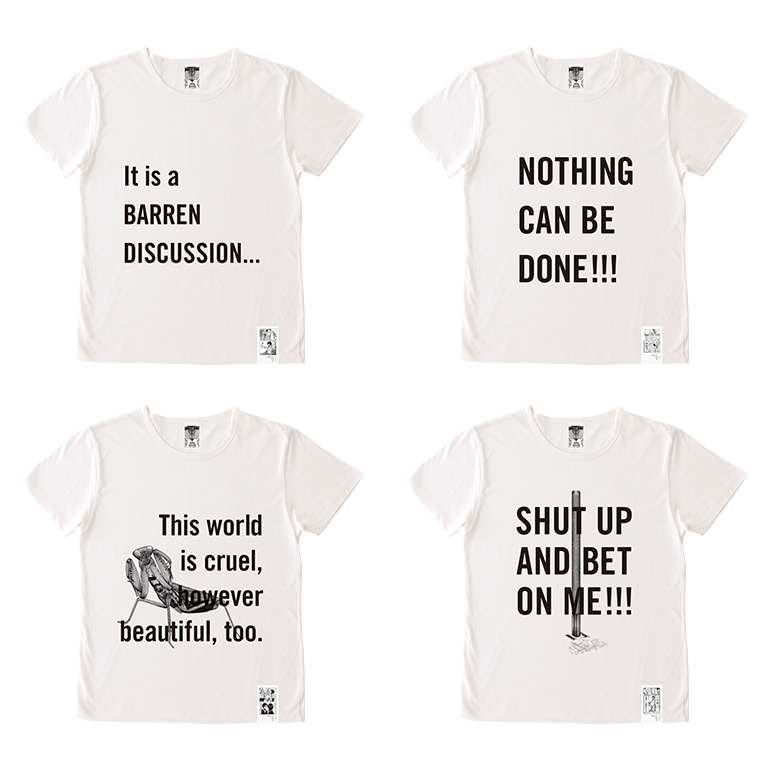 http://www.movic.jp/info/kyojintengoods/
Producer, 川窪 慎太郎, 講談社, http://www.kodansha.co.jp/, 関 賢一,, seki Planner, 富永 勇亮,, yusuke Creative Director, 谷口 恭介,, heri Designer, 伊藤 太一,, taichi Illustrator, 市村 賢一 , REALROCKDESIGN, http://www.realrock.co.jp/
Producer, Shintaro Kawakubo, KODANSHA, http://www.kodansha.co.jp/, Kenichi Seki,, seki Planner, Yusuke Tominaga,, yusuke Creative Director, Kyosuke Taniguchi,, heri Designer, Taichi Ito,, taichi Illustrator, Kenichi Ichimura, REALROCKDESIGN, http://www.realrock.co.jp/