We lanched the original customized Tshirt printing service "WEAR YOU ARE" in collaboration with Remote Sensing Technology Center o Japan, GMO Pepabo and FUTUREK.
Use WEAR YOU ARE to create a custom T-shirt or smartphone case featuring your favorite place in Japan. Choose gorgeous images of any spot in Japan from JAXA satellite data. Add text, pin a location and add a filter for that finishing touch.
* It is currently only available with Japanese satelite image.
We are looking for a partner who can provide a global data…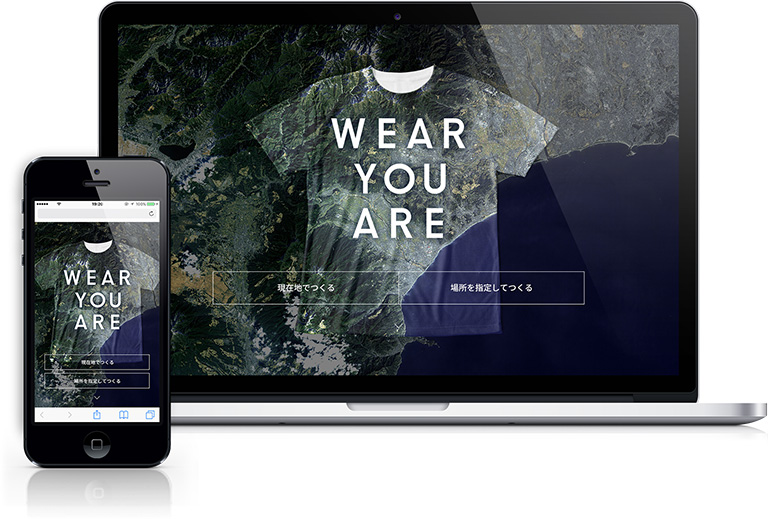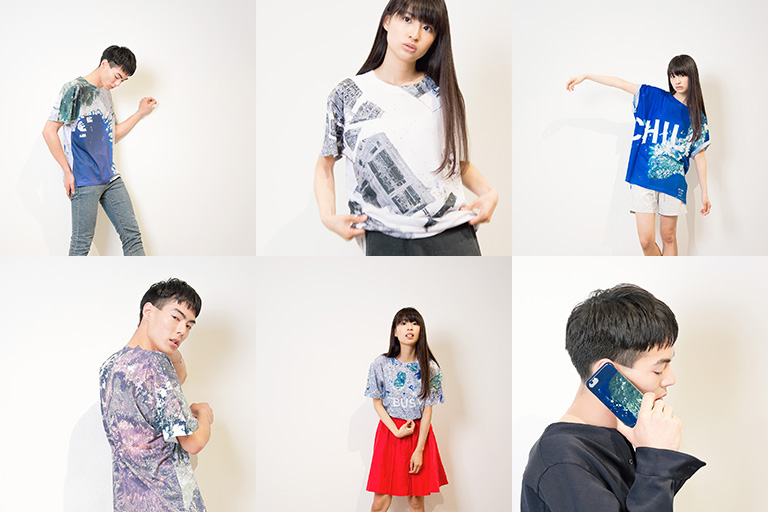 Title,Name_JP,Company,Website URL Planning / Production,dot by dot inc.,,https://dotby.jp/ Production,RESTEC,,https://www.restec.or.jp/ Production,SUZURI,,https://suzuri.jp/ Production,FUTUREK INC.,,https://www.futurek.com/ - ALL PROJECT,,, Producer,富永 勇亮,,yusuke Producer,関 賢一,,seki Creative Director,谷口 恭介,,heri Designer / Art Director,髙谷 優偉,,jaguar Associate Producer,福地 諒,,fukuchi ,,, SYSTEM,,, Producer,神田 宗秋,FUTUREK INC.,https://www.futurek.com/ Project Manager,山﨑 賢志,FUTUREK INC.,https://www.futurek.com/ Front-End Engineer,辻本 太郎,FUTUREK INC.,https://www.futurek.com/ Server Side Engineer,新村 一倫,FUTUREK INC.,https://www.futurek.com/ Infrastructure Engineer,石園 智大,FUTUREK INC.,https://www.futurek.com/ Assistant Project Manager,有田 佳奈,FUTUREK INC.,https://www.futurek.com/ ,,, MAP DATA,,, General Manager,向井田 明,RESTEC,https://www.restec.or.jp/ Assistant Manager,田中 志穂,RESTEC,https://www.restec.or.jp/ ,,, PLATFORM,,, Engineer,川合 悠太,GMOペパボ株式会社,https://suzuri.jp/ Leader,鈴木 翔太,GMOペパボ株式会社,https://suzuri.jp/ ,,, LOOK,,, Photographer,末永 光,STAYTUNE Inc. / CARTEN TOKYO,http://hikarusuenaga.com/ Hair&Makeup artist,Nanami Kurata,ASTER,https://www.astar-hair.com/ Stylist,NORIMI,, Model,岩崎 拓馬,,http://www.iwasakitakuma.jp/ Model,名和 風歌,,https://www.instagram.com/fuuka_nw/
Title,Name_EN,Company,Website URL Planning / Production,dot by dot inc.,,https://dotby.jp/ Production,RESTEC,,https://www.restec.or.jp/ Production,SUZURI,,https://suzuri.jp/ Production,FUTUREK INC.,,https://www.futurek.com/   - ALL PROJECT,,, Producer,Yusuke Tominaga,,yusuke Producer,Kenichi Seki,,seki Creative Director,Kyosuke Taniguchi,,heri Designer / Art Director,Yuichi Takatani,,jaguar Associate Producer,Makoto Fukuchi,,fukuchi ,,, SYSTEM,,, Producer,Muneaki Kanda,FUTUREK INC.,https://www.futurek.com/ Project Manager,Satoshi Yamazaki,FUTUREK INC.,https://www.futurek.com/ Front-End Engineer,Taro Tsujimoto,FUTUREK INC.,https://www.futurek.com/ Server Side Engineer,Kazumichi Shimmura,FUTUREK INC.,https://www.futurek.com/ Infrastructure Engineer,Tomohiro Ishizono,FUTUREK INC.,https://www.futurek.com/ Assistant Project Manager,Kana Arita,FUTUREK INC.,https://www.futurek.com/ ,,, MAP DATA,,, General Manager,Akira Mukaida,RESTEC,https://www.restec.or.jp/ Assistant Manager,Shiho Tanaka,RESTEC,https://www.restec.or.jp/ ,,, PLATFORM,,, Engineer,Yuta Kawai,"GMO Pepabo, Inc.",https://suzuri.jp/ Leader,Shota Suzuki,"GMO Pepabo, Inc.",https://suzuri.jp/ ,,, LOOK,,, Photographer,Hikaru Suenaga,STAYTUNE Inc. / CARTEN TOKYO,http://hikarusuenaga.com/ Hair&Makeup artist,Nanami Kurata,ASTER,https://www.astar-hair.com/ Stylist,NORIMI,, Model,Takuma Iwasaki,,http://www.iwasakitakuma.jp/ Model,Fuka Nawa,,https://www.instagram.com/fuuka_nw/