DAIMARU – the department store in Japan is celebrating its 300th anniversary with special installation exhibition, titled "Flower Mirror", to describe an appreciation for past 300 years as well as for the next generation.
dot by dot produced its special installation in collaboration with TASKO inc.
A person in front of the display window is reflected in the flower mirror by describing with 3,000 flowers opening and closing. 800 movable motors in the oval-shaped device (16.4 x 9.8 ft) with a detecting sensor enable to deliver such a unique flower mirror experience to people.
This mirror also can "reflect" a various type of shapes, patterns, and texts by programming.
http://300th.daimaru.co.jp/flowermirror/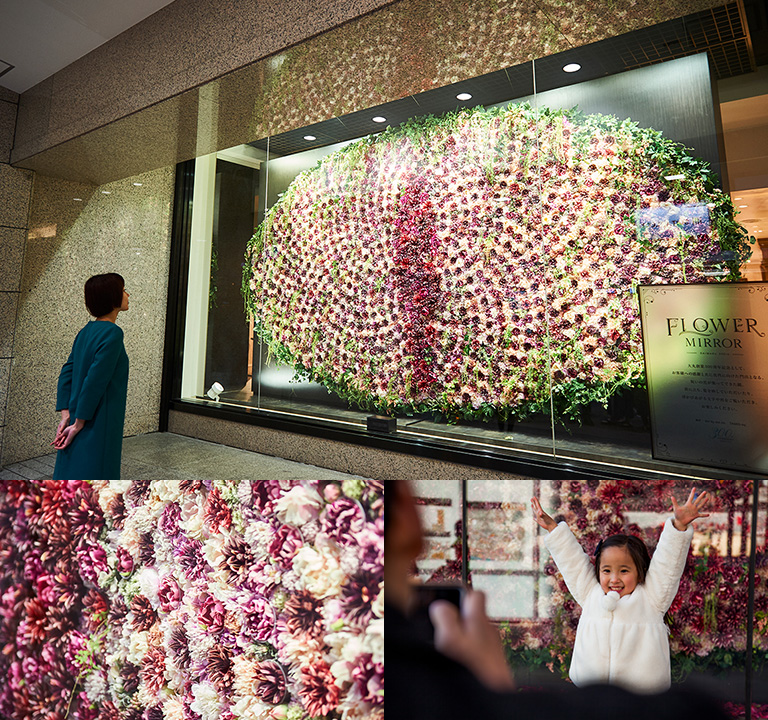 Title,Name_JP,Company,Website URL Client,大丸松坂屋百貨店,,http://www.daimaru-matsuzakaya.com/ ,,, Account Company,株式会社Quark tokyo,,http://www.quark.tokyo/ Planning / Production,dot by dot inc.,,https://dotby.jp/ Production,TASKO inc.,,http://tasko.jp/ ,,, -,,, Planner / Producer,藤原 愼哉,,sfman Creative Director,谷口 恭介,,seki Technical Director,Saqoosha,,saqoosha Designer,高谷 優偉,,taichi Director,ながしまみのり,,minori Associate Producer,福地 諒,,fukuchi ,,, Technical Director / Developer,木村 匡孝,TASKO inc.,http://tasko.jp/ Space Designer / Set Designer,北澤 岳雄,TASKO inc.,http://tasko.jp/ Flower Designer,今泉 冴也香,MY'S,http://imaizumisayaka.com/ Set Designer / Developer,佐藤方紀,TASKO inc.,http://tasko.jp/ Set Designer / Product Designer,林 民夫,TASKO inc.,http://tasko.jp/ Device Engineer,堀尾 寛太,,http://kanta.but.jp/ Device Engineer,沖山 良太,TASKO inc.,http://tasko.jp/ Assistant,坂田亮一,TASKO inc.,http://tasko.jp/ Assistant,佐々田恒彦,, Assistant,長原聡磨,, Assistant,関 亮人,, Assistant,石島響,, Assistant,北川 万里江,, Assistant,若菜直子,, Assistant,正田達也,, Assistant,田井地直己,TASKO inc.,http://tasko.jp/ CG Designer,坂川拓真,TASKO inc.,http://tasko.jp/ CG Designer,渡辺華代,TASKO inc.,http://tasko.jp/
Title,Name_EN,Company,Website URL Client,"Daimaru Matsuzakaya Department Stores Co., Ltd.",,http://www.daimaru-matsuzakaya.com/ ,,, Account Company,Quark tokyo Inc.,,http://www.quark.tokyo/ Planning / Production,dot by dot inc.,,https://dotby.jp/ Production,TASKO inc.,,http://tasko.jp/ ,,, -,,, Planner / Producer,Shinya Fujiwara,,sfman Creative Director,Kyosuke Taniguchi,,seki Technical Director,Saqoosha,,saqoosha Designer,Yuichi Takatani,,taichi Director,Minori Nagashima,,minori Associate Producer,Makoto Fukuchi,,fukuchi ,,, Technical Director / Developer,Masa Kimura,TASKO inc.,http://tasko.jp/ Space Designer / Set Designer,Takeo Kitazawa,TASKO inc.,http://tasko.jp/ Flower Designer,Sayaka Imaizumi,MY'S,http://imaizumisayaka.com/ Set Designer / Developer,Masaki Sato,TASKO inc.,http://tasko.jp/ Set Designer / Product Designer,Tamio Hayashi,TASKO inc.,http://tasko.jp/ Device Engineer,Kanta Horio,,http://kanta.but.jp/ Device Engineer,Ryota Okiyama,TASKO inc.,http://tasko.jp/ Assistant,Ryoichi Sakata,TASKO inc.,http://tasko.jp/ Assistant,Tsunehiko Sasada,, Assistant,Souma Nagahara,, Assistant,Ryouto Seki,, Assistant,Hibiki Ishijima,, Assistant,Marie Kitagawa,, Assistant,Naoko Wakana,, Assistant,Tatsuya Showda,, Assistant,Naoki Taichi,TASKO inc.,http://tasko.jp/ CG Designer,Takuma Sakagawa,TASKO inc.,http://tasko.jp/ CG Designer,Kayo Watanabe,TASKO inc.,http://tasko.jp/