dot by dot inc. organized exhibitions for "MUJI 10,000 shapes of TOKYO", which was hosted by Ryohin Keikaku Co., Ltd., Tokyo Metropolis and Tokyo Convention & Visitors Bureau, at flagships in Taipei and New York.
Many commodities of MUJI have a well calculated uniformity for designing so that it makes them seem like a desired structure or planned city view to pile and lay one on another or to place them side by side. With over 10,000 commodities of MUJI, we envisioned and represented the city of Tokyo, which was composed of a variety of buildings and townscapes including Tokyo Tower.
The Taipei exhibition was held at MUJI in Uni-President Department Store from March 5th to 13th in 2016 and the New York exhibition took place in MUJI FIFTH AVENUE from March 19th to April 24th in 2016.
See websites for more information below;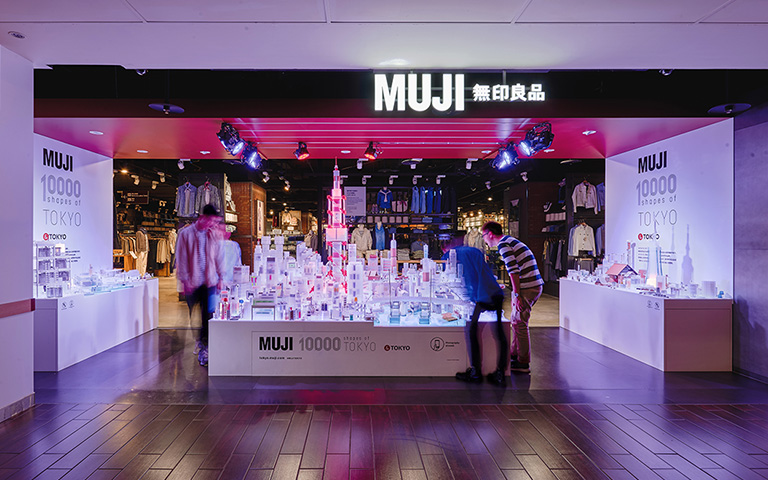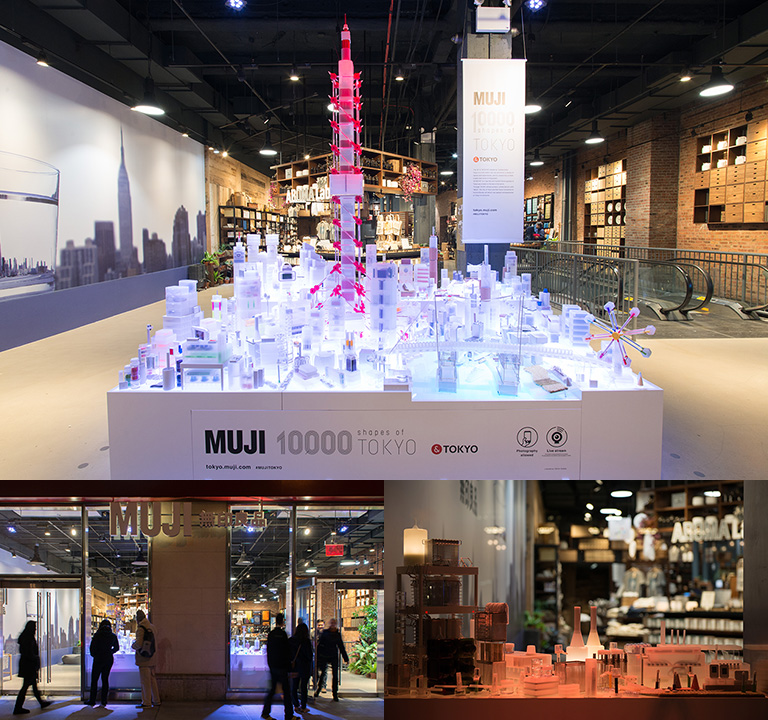 Client,東京都,,http://www.metro.tokyo.jp/ ,東京観光財団,,http://www.tcvb.or.jp/jp/ ,良品計画,,http://ryohin-keikaku.jp/ ,,, Planning / Production,dot by dot inc.,,https://dotby.jp/ Production,TASKO inc.,,http://tasko.jp/ ,,, -,,, ALL PROJECT Creative Director,谷口 恭介,,heri Technical Director,Saqoosha,,saqoosha Designer,高谷 優偉,,jaguar Planner,藤原 愼哉,,sfman EXHIBITION Director / Lighting and Device Engineer,KIMURA,TASKO inc.,http://tasko.jp/ Production Designer,北澤 岳雄,, Device Engineer,堀尾 寛太,, Device Set-up,坂田 亮一,TASKO inc.,http://tasko.jp/ Set Designer,加藤 小雪,, Set Designer,佐々木 香菜,, Set Design Assitant,佐々田 恒彦,, Set Design Assitant,黑田 菜月,, Production Manager,二村 俊和,TASKO inc.,http://tasko.jp/ MOVIE Director/Editor,肥留川 宇志,, Cinematographer,上池 惟孝,, Photographer,田中 雅也,, Music Composer,henlywork,, Production Manager,佐藤 悦子,, WEB Programmer,David Ronai,, System Engineer,イズカワ タカノブ,,hige Assistant,佐藤 志都穂,,shizuho EXHIBITION SHOOTING Photographer (TW),Andrew Kan,,http://www.imandrewkan.com/ Photographer (NY),TOKIO KUNIYOSHI,,http://shootinglife.net/ Cinematographer (NY),Tetsu Wakabayashi,,http://tetsuwakabayashi.com/ THANKS TO -,"MUJI (TAIWAN) CO.,Ltd ",, -,MUJI U.S.A LIMITED,, -,寺田倉庫,,http://www.terrada.co.jp/ -,J-COLLABO,, -,KENSET Corporation,,
Client,TOKYO METROPOLITAN GOVERMENT,,http://www.metro.tokyo.jp/index.htm ,Tokyo Convention & Visitors Bureau,,http://www.tcvb.or.jp/jp/index.html ,Ryohin Keikaku Co., Ltd.,,http://ryohin-keikaku.jp/ ,,, Planning / Production,dot by dot inc.,, Production,TASKO inc.,,http://tasko.jp/ ,,, -,,, ALL PROJECT Creative Director,Kyosuke Taniguchi,,heri Technical Director,Saqoosha,,saqoosha Designer,Yuichi Takatani,,jaguar Planner,Sinya Fujiwara,,sfman EXHIBITION Director / Lighting and Device Engineer,KIMURA,TASKO inc.,http://tasko.jp/ Production Designer,Takeo Kitazawa,, Device Engineer,Kanta Horio,, Device Set-up,Ryoichi Sakata,TASKO inc.,http://tasko.jp/ Set Designer,Kato Koyuki,, Set Designer,Kana Sasaki,, Set Design Assitant,Tsunehiko Sasada,, Set Design Assitant,Natsuki Kuroda,, Production Manager,Toshikazu Futamura,TASKO inc.,http://tasko.jp/ MOVIE Director/Editor,Takashi Hirukawa,, Cinematographer,Koretaka Kamiike,, Photographer,Masaya Tanaka,, Music Composer,henlywork,, Production Manager,Etsuko Sato,, WEB Programmer,David Ronai,, System Engineer,Takanobu Izukawa,,hige Assistant,Shizuho Sato,,shizuho EXHIBITION SHOOTING Photographer (TW),Andrew Kan,,http://www.imandrewkan.com/ Photographer (NY),TOKIO KUNIYOSHI,,http://shootinglife.net/ Cinematographer (NY),Tetsu Wakabayashi,,http://tetsuwakabayashi.com/ THANKS TO -,"MUJI(TAIWAN)CO.,Ltd ",, -,MUJI U.S.A LIMITED,, -,Warehouse TERRADA,, -,J-COLLABO,, -,KENSET Corporation,,
760