dot by dot inc. created 360 degree experimental theatre "koh" that is a main content of the Attack on Titan Exhibition at The Ueno Royal Museum.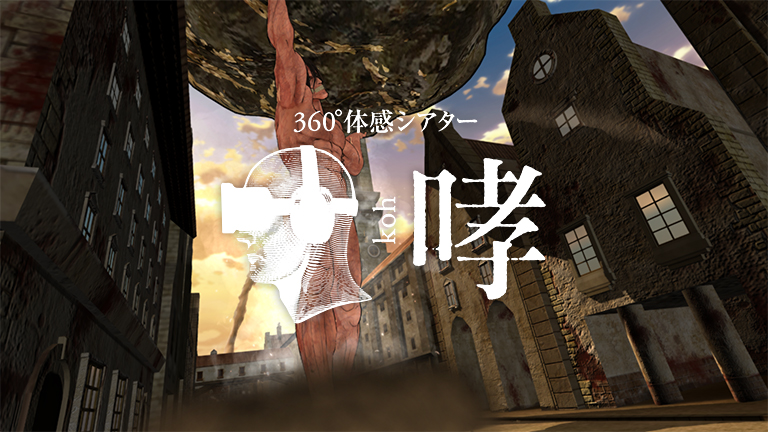 This is a special exhibition based on the Attack on Titan (Manga), a series that has wrapped not just Japan but the world in a whirlwind and to which over 42 million copies have been sold.
Our featuring content; "koh" is offering 360 degree visual experience with the Oculus Rift to enter the Attack on Titan word by being one of the Survey Corps member. You can involve in the Attack on Titan world where is the most beautiful virtual reality space.
Exhibition Information
Date: 28th Nov 2014 – 25th Jan 2015
Venue: The Ueno Royal Museum
Ticket: Adult: JPY 1,800 / Student: JPY 1,500 + 360 degree experimental theatre "koh": JPY 600
©諫山創・講談社/「進撃の巨人展」製作委員会
Client,「進撃の巨人展」製作委員会,,http://www.kyojinten.jp/   Executive Creative Director,高草木 博純,電通,http://www.dentsu.co.jp/ Creative Director,小池 宏史,電通,http://www.dentsu.co.jp/ Director,谷口 恭介,,heri Technical Director / Programmer,Saqoosha,,saqoosha Producer,富永 勇亮,,yusuke,関 賢一,,seki Planner,大津 裕基,電通,http://www.dentsu.co.jp/,後藤 萌,電通,http://www.dentsu.co.jp/ Project Manager,山田 直人,電通テック,http://www.dentsutec.co.jp/,荘司 佳美,電通テック,http://www.dentsutec.co.jp/ Programmer,大橋 將史,AID-DCC Inc.,http://www.aid-dcc.com/,衣袋 宏輝 Server Side Engineer,イズカワ タカノブ,,hige Movie Director,中村 武志,AID-DCC Inc.,http://www.aid-dcc.com/ Designer,高谷 優偉,,jaguar Logo design,石井 正信,カイブツ,http://kaibutsu.jp/ CG Producer,谷川 佳隆,"Digital Media Lab., Inc.",http://www.dml.co.jp/ Director,高橋 伸禎,"Digital Media Lab., Inc.",http://www.dml.co.jp/ Chief Artist,濱口 剛裕,"Digital Media Lab., Inc.",http://www.dml.co.jp/ Programmer,森田 譲,"Digital Media Lab., Inc.",http://www.dml.co.jp/ Modeling Artists,沖 孝智 / 松村 珠美 / 戸田 直邦 / 北川 朝大 / 増田 暁 / 木口 拓哉 / 保坂 洋二 / 亀井 絢 / 小倉 優輝 / 高村 絵里香 / 九島 啓介 Motion Artists,山﨑 和也 / 片岡 勇士 / 田中 重輝 / 坪井 大樹 / 古越 さと子 / 小幡 大剛 / 藤本 崇紘 / 西浦 雅仁 / 洞 亮太郎 / 杉谷 竜也 Coordinator,武内 康泰 / 宇都宮 信治 / 安田 智也 Motion Capture Chief,今泉 陽夫 Motion Capture Designer,寺本 郁美 Motion Actor,山本 美和子 / 高島 理 Motion Capture Staff,大阪電気通信大学モーションキャプチャースタッフ
Client,"Shingeki no Kyojin Ten" Production Committee,,http://www.kyojinten.jp/   Executive Creative Director,Hirozumi Takakusaki,DENTSU INC.,http://www.dentsu.co.jp/ Creative Director,Hiroshi Koike,DENTSU INC.,http://www.dentsu.co.jp/ Director,Kyosuke Taniguchi,,heri Technical Director / Programmer,Saqoosha,,saqoosha Producer,Yusuke Tominaga,,yusuke,Kenichi Seki,,seki Planner,Yuki Ohtsu,DENTSU INC.,http://www.dentsu.co.jp/,Moe Goto,DENTSU INC.,http://www.dentsu.co.jp/ Project Manager,Naoto Yamada,DENTSU TEC INC.,http://www.dentsutec.co.jp/,Yoshimi Shoji,DENTSU TEC INC.,http://www.dentsutec.co.jp/ Programmer,Masashi Ohashi,AID-DCC Inc.,http://www.aid-dcc.com/,Koki Ibukuro Server Side Engineer,Takanobu Izukawa,,hige Movie Director,Takeshi Nakamura,AID-DCC Inc.,http://www.aid-dcc.com/ Designer,Yuichi Takatani,,jaguar Logo design,Masanobu Ishii,kaibutsu,http://kaibutsu.jp/ CG Producer,Yoshitaka Tanigawa,"Digital Media Lab., Inc.",http://www.dml.co.jp/ Director,Nobusada Takahashi,"Digital Media Lab., Inc.",http://www.dml.co.jp/ Chief Artist,Takehiro Hamaguchi,"Digital Media Lab., Inc.",http://www.dml.co.jp/ Programmer,Jou Morita,"Digital Media Lab., Inc.",http://www.dml.co.jp/ Modeling Artists,Takatoshi Oki / Tamami Matsumura / Naokuni Toda / Tomohiro Kitagawa / Akira Masuda / Takuya Kiguchi / Youji Hosaka / Aya Kamei / Yuuki Kokura / Erika Takamura / Keisuke Kushima Motion Artists,Kazuya Yamasaki / Takeshi Kataoka / Shigeki Tanaka / Daiki Tsuboi / Satoko Furukosi / Hirotaka obata / Takahiro Fujimoto / Masahito Nishiura / Ryotaro Hora / Tatsuya Sugitani Coordinator,Yasuhiro Takeuchi / Shinji Utsunomiya / Tomoya Yasuda Motion Capture Chief,Haruo Imaizumi Motion Capture Designer,Ikumi Teramoto Motion Actor,Miwako Yamamoto / Osamu Takashima Motion Capture Staff,Osaka Electro-Communication University Motion Capture Staff